Botox
This treatment is good for
reducing wrinkles on the face
tightening skin for a fresher look
shaping the jawline
lifting eyebrows
smoothing neck lines
reducing the sweating of armpits
reducing symptoms of depression
reducing migraines
About Botox
Botox is a prescription medicine that is injected into muscles and used to temporarily improve the look of moderate to severe crow's feet lines and frown lines between the eyebrows in adults. Botox causes temporary paralysis of the small muscles into which it is injected.
Before & after gallery*
Frequently asked questions
How long does the treatment take?
Our physician will discuss your treatment goals and perform a facial analysis to determine the appropriate treatments for you. Your first appointment usually takes about 30 minutes. Follow-up appointments usually take 15 to 30 minutes.*
When will I see results?
For most people, two weeks.*
How long do the results last?
Up to four months.* You may return regularly for ongoing results.
How much does it cost?
$17 per unit. A typical brow line or forehead requires 10 to 20 units.*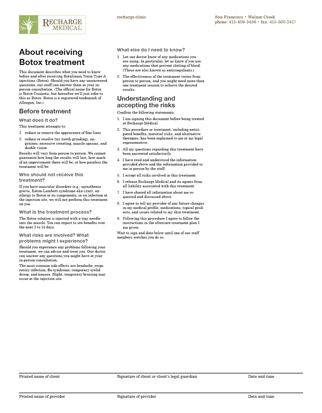 Consent form for Botox treatment
Are you new to us? Please complete our Botox consent form before your visit.
* Your results may vary.
All trademarks are held by their respective owners.