Dermal Fillers
This treatment is good for
restoring youthful cheekbones
softening eye bags
augmenting thin lips
smoothing wrinkles and skin folds
softening smile lines
rejuvenating bony hands
improving the appearance of sunken temples
About dermal fillers
Dermal fillers consist of either hyaluronic acid or hydroxylapatite, natural substances found in your body. It is used to replace volume loss in your face or hands. Fillers are injected in the skin.
Before & after gallery*
Frequently asked questions
How long does the treatment take?
45 minutes*
When will I see results?
You will likely see results immediately.* However, it usually takes about two weeks for fillers to settle and look natural. Results vary depending on which filler is used, and our physician can help you choose.
How long do the results last?
Up to two years.*
How much does it cost?
| | |
| --- | --- |
| Belotero Balance® | $650 per syringe |
| Juvéderm Ultra XC® | $650 per syringe |
| Juvéderm Voluma XC® | $1,150 per syringe |
| Juvéderm Volbella XC® | $450 per syringe |
| Radiesse® | $650 per cc |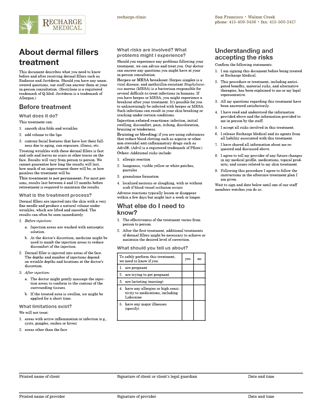 Consent form for dermal fillers treatment
Are you new to us? Please complete our dermal fillers consent form before your visit.
* Your results may vary.
All trademarks are held by their respective owners.