FotoFacial Treatment
This treatment is good for
reducing or removing:

age spots
large pores
spider veins
brown spots
broken blood vessels, such as due to rosacea

tightening skin for a fresher look
treating sun-damaged skin
About FotoFacial treatment
Our FotoFacial treatment combines intense pulse light (IPL) and radio frequency (RF) energies into targeted cells and helps to burn pigments.
Frequently asked questions
How long does the treatment take?
Depends on the area treated—the larger the area the longer the treatment time. Expect to spend 15 to 60 minutes.*
When will I see results?
For optimal results, three to four treatments each one month apart are usually required. Improvement can be seen after one to two weeks when blemishes are absorbed into the body or shed from your skin.*
How long do the results last?
Results from a successful series of laser treatments can last for more than a year.*
How much does it cost?
| | 1 treatment | 4 treatments |
| --- | --- | --- |
| Full face | $325 | $1,100 |
| Face, chest, and neck | $600 | $2,040 |
| Neck | $225 | $765 |
| Hands | $325 | $1,100 |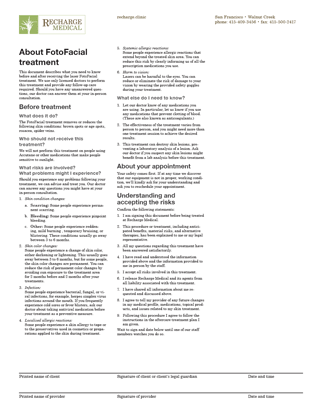 Consent form for FotoFacial treatment
Are you new to us? Please complete our FotoFacial consent form before your visit.
About our health & safety procedures
Why only licensed physicians perform our laser treatments
* Your results may vary.
All trademarks are held by their respective owners.