Administrative Assistant / Office Manager
Current opening
Availability
Full-time (35 hours/week) preferred, but part-time would be considered
Description
The administrative assistant / office manager for Recharge Medical is responsible for:
providing assistance with day-to-day clinic operations
serving as assistant to the director
engaging patients, marketing, and outreach activities.
Required qualifications
College degree or four years of comparable experience
Proven skills in writing, editing, telephone relations, and interpersonal relations
Preferred qualifications
Experience in clinic, skin care, or healthcare settings
Experience in sales or marketing
Location
San Francisco's Nob Hill neighborhood
Compensation
Dependent upon experience
How to apply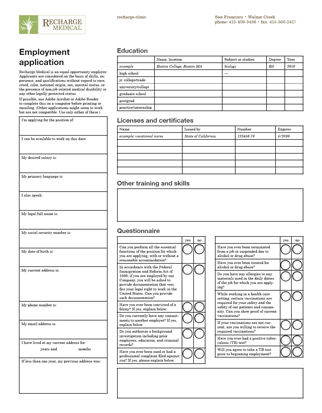 Complete our job application. Send your completed job application, cover letter, and resume to apply@recharge.clinic or by snail mail to Recharge Medical, 1456 California Street, San Francisco, CA 94109-4712.
Questions?
Call us at 415-409-3456.
Other positions
See Jobs.
About Recharge Medical
Recharge Medical is a unique clinic providing primary medical care and cosmetic medical procedures in a spa-like setting.
We also feature a nail clinic that provides manicures and pedicures focused on nail health. Our mission is to help you meet your goals of improved health while attending to your aesthetic medical needs.
Recharge Medical is respected for exceptional leadership in quality services, standards of sterilization, workplace safety, fair and equitable employment, local community support, and environmental friendly practices.