Administrative Assistant
Current opening
Availability
full-time or part-time
Description
The Administrative Assistant provides support to the day-to-day operation of the clinic, works to grow the patient census, and increase overall revenue. In addition, the Administrative Assistant will provide administrative assistance to the officers and represent the office in external communications. This is an hourly, non-exempt position.
Scope of responsibilities
The following list of duties outlines a starting point, as the practice grows and needs of the business change, specific duties and responsibilities might be moved to other staff and new duties and responsibilities may be added.
Day-to-day clinic operation
Organize and run meetings, including weekly staff meeting and monthly marketing meetings
Maintain staff schedule, including approving and tracking time off requests, preparing employee time clock reports for payroll, and ensuring clinic staff coverage
Ensure smooth day-to-day operations of clinic
Ensure clinic inventory is current, approve orders, and source new materials
Communication and marketing
Maintain contact databases, including patient, referral, sales prospect, and provider
Send out quarterly mass mailing to providers
Coordinate monthly patient promotional emails
Coordinate special events and open houses
Coordinate all community service and community giving
Manage social media, including Facebook, Google, Instagram, Yelp
Respond to online feedback and reviews
Assistant to officers
Represent Chief Medical Officer and Chief Operating Officer in public affairs
Assist COO in communications with governmental agencies
Serve as point contact for all vendors, including product sales reps and computer services
Maintain all business records, including employee files
Service as contact and gatekeeper for CMO and COO
Draft and edit written communications
Special tasks as assigned by COO

How to apply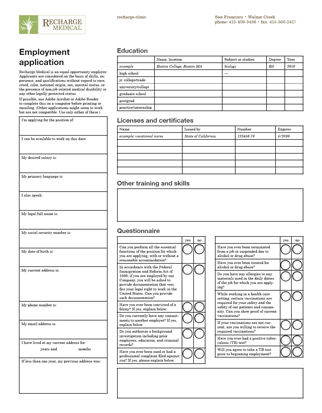 Complete our job application. Send your completed job application, cover letter, and resume to apply@recharge.clinic or by snail mail to Recharge Medical, 1456 California Street, San Francisco, CA 94109-4712.
Questions?
Call us at 415-409-3456.
Other positions
See Jobs.
About Recharge Medical
Recharge Medical is a unique clinic providing primary medical care and cosmetic medical procedures in a spa-like setting.
We also feature a nail clinic that provides manicures and pedicures focused on nail health. Our mission is to help you meet your goals of improved health while attending to your aesthetic medical needs.
Recharge Medical is respected for exceptional leadership in quality services, standards of sterilization, workplace safety, fair and equitable employment, local community support, and environmental friendly practices.