Medical assistant / receptionist
Current opening
Location
San Francisco
Duties include but are not limited to
Working both front and back office of a unique medical clinic. The practice provides primary care, cosmetic medical, and nail clinic services. Tasks include:
answering phone calls, voice mails, and email
scheduling appointments
checking in, rooming, checking out patients
ensuring clinic is clean and maintained
selling retail products to clinic clients
participating planning and marketing
processing and submitting health insurance claims
coding for insurance purposes
recording vital signs and medical histories
preparing patients and rooms for examination
patient education
drawing blood
preparing and administering medications and injections
performing CLIAA-waived lab tests
Requirements
Excellent customer service skills.
An understanding of medical terms, medical billing codes, and billing procedures.
Demonstrated competence with EMR systems, POS systems, computer-based scheduling, email, and written communication.
Ability to lift and carry 25 pounds.
Ability to work weekdays and weekends, and as late as 7:30 PM.
Graduate of medical assistant, emergency medical technician, or nursing assistant training program
Preference given to candidates with
current certification as a medical assistant, emergency medical technician, phlebotomy technician, or nursing assistant.
experience in medical billing, health insurance, or outpatient settings.
experience in clinic settings.
experience with Practice Fusion electronic medical records.
experience with Spa Booker software.
Pay
Pay is on an hourly basis. Starting pay rate is commensurate with experience. Great job to gain experience in clinical services, primary care settings, travel health, and the growing field of cosmetic medicine.
How to apply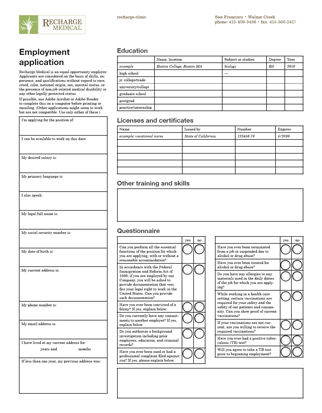 Complete our job application. Send your completed job application, cover letter, and resume to apply@recharge.clinic or by snail mail to Recharge Medical, 1456 California Street, San Francisco, CA 94109-4712.
Questions?
Call us at 415-409-3456.
Other positions
See Jobs.
About Recharge Medical
Recharge Medical is a unique clinic providing primary medical care and cosmetic medical procedures in a spa-like setting.
We also feature a nail clinic that provides manicures and pedicures focused on nail health. Our mission is to help you meet your goals of improved health while attending to your aesthetic medical needs.
Recharge Medical is respected for exceptional leadership in quality services, standards of sterilization, workplace safety, fair and equitable employment, local community support, and environmental friendly practices.