Patient Services Coordinator
Taking resumes
We're not currently hiring for this position, but when one opens, we give interview priority to applicants who have submitted a resume prior. Please submit your resume and we'll contact you should a position matching your skills and experience becomes available.
Availability
part-time
Description
The Patient Services Coordinator for Recharge Medical is responsible for tasks related to patient and client engagement. These include marketing and communications functions, front office support, outreach, and some patient billing activities. He or she performs tasks at the direction of the management team and reports to the chief operating officer.
Scope of responsibilities
Working with the management team in creating, implementing, and measuring the success of:
a comprehensive marketing, communications, and public relations program that will enhance the clinic's image within the community and grow its client base. all marketing, communications, and public relations activities and materials including publications, media relations, client acquisition, and so forth.

Editing and distribution of print and electronic materials such as letterhead, signs, brochures, email newsletters, website content, social media, etc.
Daily managing our online image, including updates of Yelp, Google, Facebook, and other online venues. Monitor online venues for feedback and resolve problem reports.
Coordinating our participation in community events, organizations, and fairs.
Developing referral relationships with local businesses, healthcare providers, news organizations, and other clinics through mailings, face-to-face meetings, drop-in visits, and follow-up communications.
Covering 3 to 4 front desk shifts per week. At the front desk your tasks will include: answering phone calls, voicemails, and email; scheduling appointments; checking patients in and out; ensuring the clinic is clean and maintained; selling retail products to patients and clients; scanning and uploading documents to our electronic medical record system (EMR).
Required qualifications
Superb writing, editing, interpersonal, and storytelling skills
Ability to work independently and meet short turnaround deadlines
Experience with social media and internet advertising
Proven experience at a small professional services organization
Detail-oriented with the ability to manage projects from inception through execution
Strong creative, strategic, analytical, organizational, and sales skills
Excellent customer/client service skills
Ability to lift and carry 25 pounds
Preferred qualifications
BA or BS in business, marketing, communications, English, or a related field
Experience in clinical, skin care, or healthcare settings
Experience in retail and customer service
Experience with Facebook marketing
Demonstrated competence with EMR systems, point of sale (POS) systems, or computer-based scheduling
Experience in medical billing, health insurance, or outpatient settings
Workload
part-time, 25 hours per week:
10 hours: flexible work days and hours, with possibility for telecommuting
15 hours: front desk
Location
Based in San Francisco's Nob Hill neighborhood, with option for telecommuting part of the week.
Compensation
$17/hour and bonuses based on new sales generated by marketing.
How to apply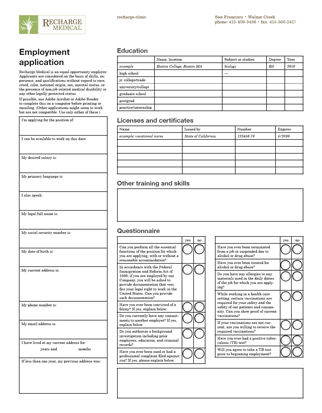 Complete our job application. Send your completed job application, cover letter, and resume to apply@recharge.clinic or by snail mail to Recharge Medical, 1456 California Street, San Francisco, CA 94109-4712.
Questions?
Call us at 415-409-3456.
Other positions
See Jobs.
About Recharge Medical
Recharge Medical is a unique clinic providing primary medical care and cosmetic medical procedures in a spa-like setting.
We also feature a nail clinic that provides manicures and pedicures focused on nail health. Our mission is to help you meet your goals of improved health while attending to your aesthetic medical needs.
Recharge Medical is respected for exceptional leadership in quality services, standards of sterilization, workplace safety, fair and equitable employment, local community support, and environmental friendly practices.