Microdermabrasion
This treatment is good for
removing dead skin
treating acne
stimulating cell growth and blood flow
reducing the appearance of wrinkles and blemishes
treating uneven skin color
About microdermabrasion
Microdermabrasion involves the use of crystals or diamonds to remove dead skin to improve and smooth the texture of your skin. The crystals also have antiseptic properties which aids in reduction of acne. It is commonly used for the face, but other areas of the body may benefit from it, like acne-prone backs or buttocks. You might encounter some mild flaking of skin after the procedure.*
Frequently asked questions
How long does the treatment take?
This treatment takes about 30 minutes.*
When will I see results?
You can see results immediately.*
How long do the results last?
In some cases, we recommend multiple treatments for optimal results.*
How much does it cost?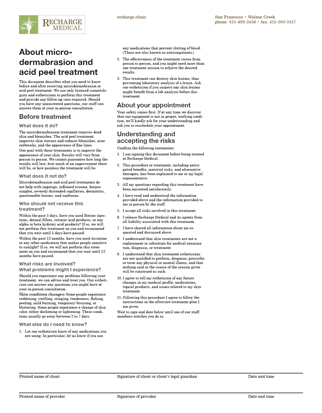 Consent form for microdermabrasion and peel treatment
Are you new to us? Please complete our microdermabrasion and peel consent form before your visit.
* Your results may vary.
All trademarks are held by their respective owners.