Thread Lift
This treatment is good for treating
facial sagginess
smile lines
crow's feet
acne scarring
marionnette lines
nasolabial folds
soften jowls
eye bags
droopy eyelids
neck laxity
neck lines
About thread lifts
In our thread lift treatment, absorbable surgical sutures are skillfully injected and tightened under the skin to lift and smooth. The synthetic sutures are made of polydioxanone (PDO). PDO sutures are commonly used to perform cardiothoracic surgery (also known as open-heart surgery). It's one of the safest materials to be implanted in the body. Your skin fully absorbs it within four to six months without scar tissue. The effects, however, last 12 to 15 months. The threads are injected under the skin and then tightened, giving you a smooth and natural facelift without surgery. It is also used to smooth out fine lines around eyes and lips. It works by stimulating collagen where the threads are placed. It can be used for other parts of the body and face, but it is most commonly used for sagginess in the lower face and neck lines.*
Before and after gallery*

Frequently asked questions
How long does the treatment take?
About 30 minutes*
When will I see results?
Following the procedure, results are visible immediately. Results vary depending on how much laxity you have, how many threads are employed, and the degree of recovery time thereafter, which can be several days or weeks.*
How long do the results last?
For up to a year and a half*
How much does it cost?
$150 and up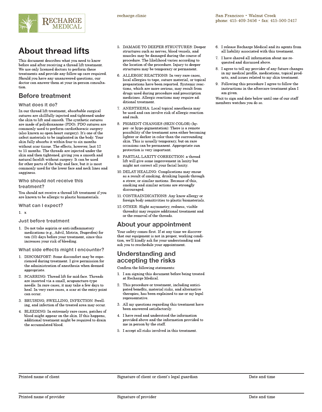 Consent form for thread lift
Are you new to us? Please complete our thread lift consent form before your visit.
* Your results may vary.
All trademarks are held by their respective owners.